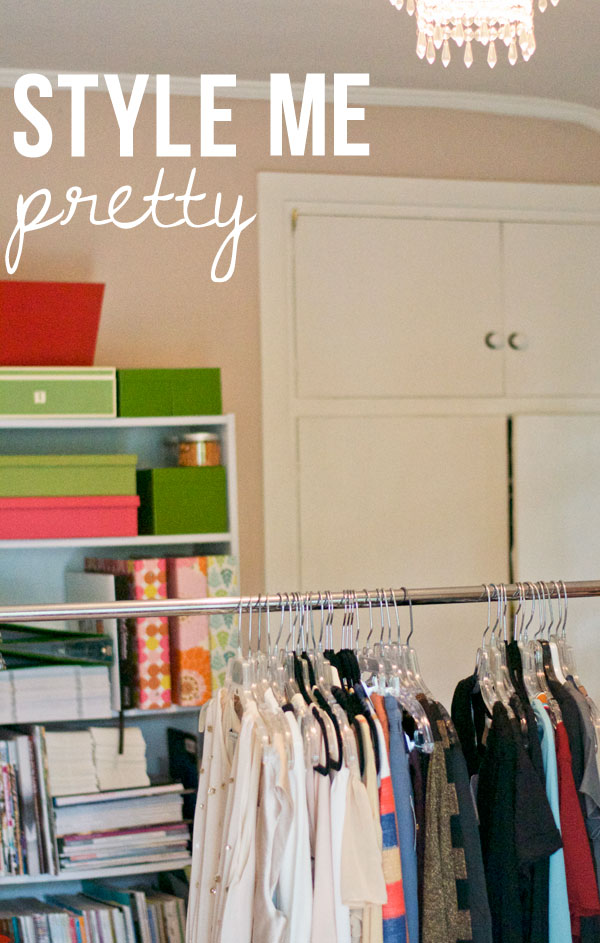 It's sometimes funny to me that people think the life of a stylist is glamorous. On the surface, I get how it could seem so. Cute clothes and accessories, lights, camera, action! But in reality it's usually a lot of nomad like packing and unpacking of said clothes in and out of random locations. Then there's the running around set trying to keep the talent from ripping, staining or forgetting their clothes. It's fun, don't get me wrong, and I'm so thankful for the opportunities this work has given me. But some styling jobs can be grueling and soooo not glamorous. Like the time I found myself eight months pregnant dragging racks of fishing gear down the side of Kern River two weeks before Christmas. Or hosing down Green Day in a pop-up tent at midnight after shooting their American Idiot video. You know, the one wear they get drenched in green paint!?! Oh it was fun, but NOT glamorous. Then I get a project like the one I did with The Mowgli's this weekend that makes me really love what I do-great people, cool clothes, and lots of music. And when Katie, the only girl out of eight band members, stepped out in her head-to-toe bohemian chicness, I did feel a waft of glamour come over us. Of course the waft was in a garage-office in the hills of Studio City, but glamour is glamour-no matter what shape or form.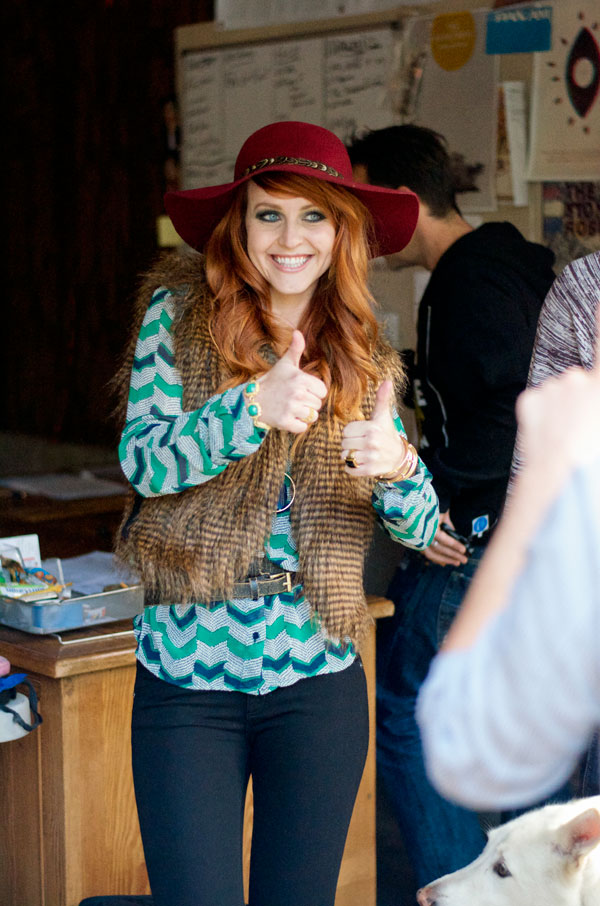 Katie's big reveal to the boys in the band and Luna, their manager's pup.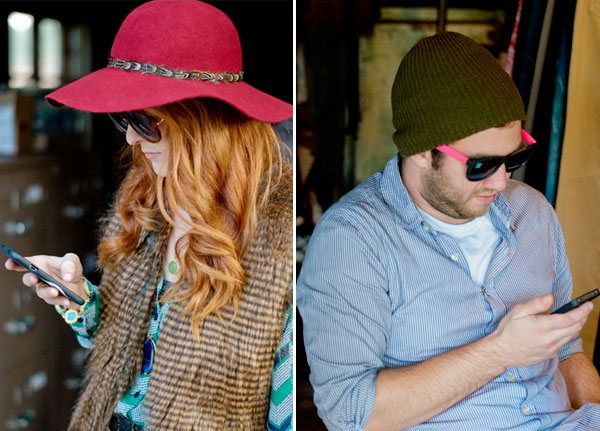 Downtime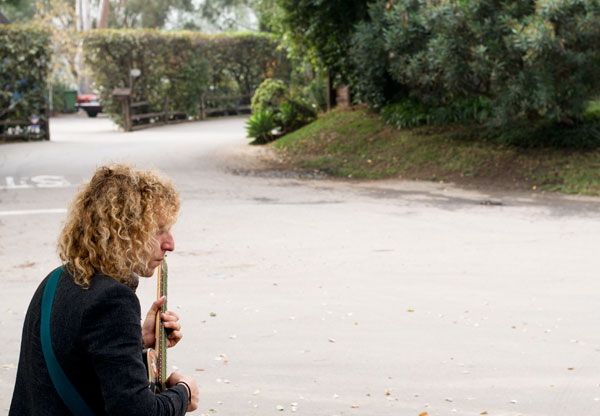 Michael on his guitar. One of my favorite things about working with musicians, there's always music playing.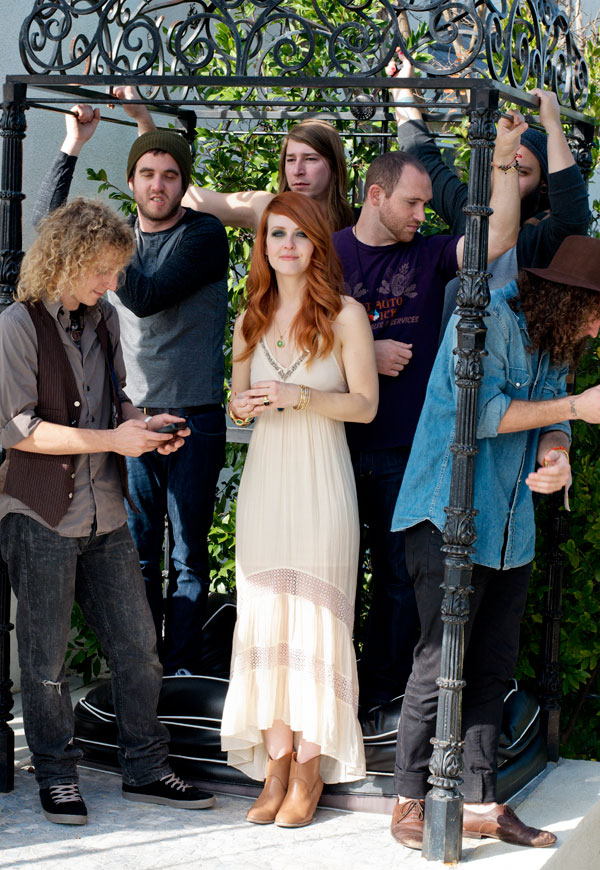 Our second look for Katie was this beautiful linen dress. I love the femininity of the dress mixed with the rugged booties from Forever 21. The band says it's usually impossible to get a decent picture where all eight of them have their eyes open and smiles bright. This was candid, but we'll still give props to Andy for taking one for the team. Sorry buddy, it was too cute not to share.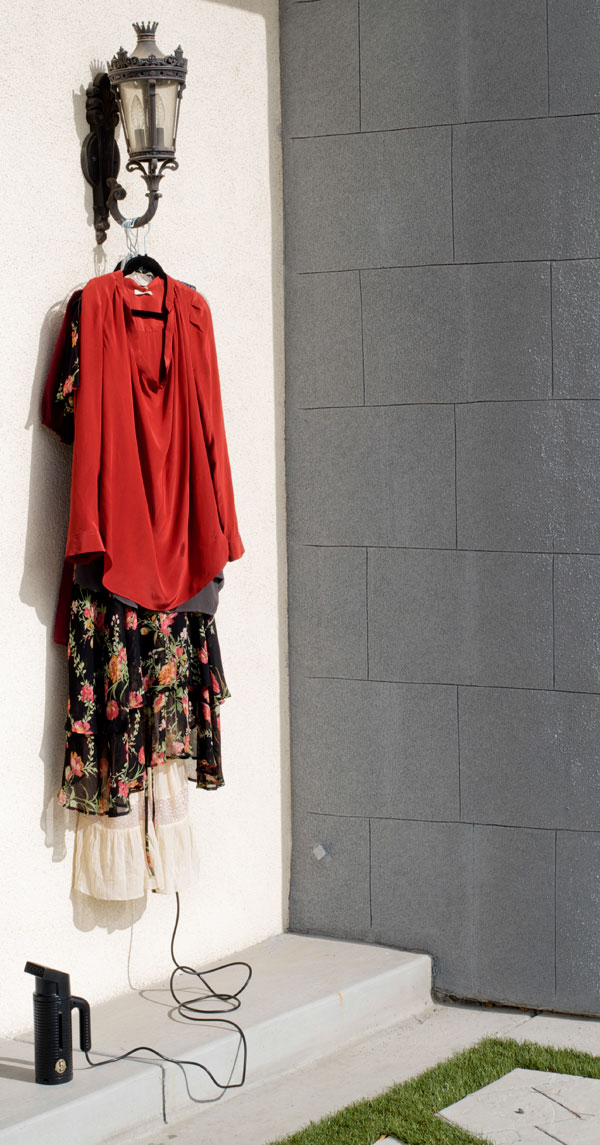 Have outlet, will steam. I'm IN LOVE with this Chelsea Flour blouse. So simple and modern, a clean palette begging for some bold accessories. Great with skinny jeans or black pants. PS-this E-steamer will change your life! It was gifted to me by a stylist who hung up her hangers and I truly cherish it. Simply unscrew the top, add water, plug it in and the perfect amount of steam appears in a few minutes. Steaming is the fastest, safest way to de-wrinkle clothes.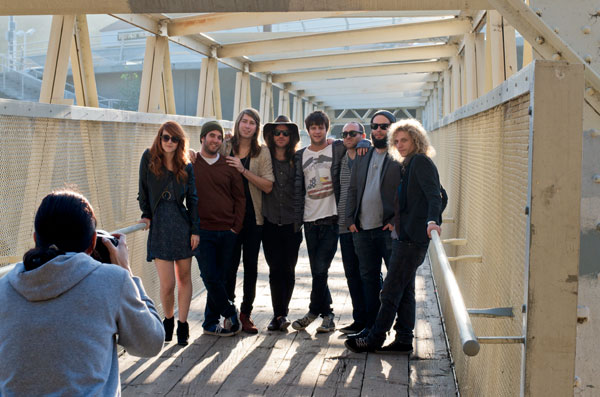 Photographer Emily Shur works her magic with the band on the LA River.
Katie: Forever 21 green blouse, fur vest, blue dress, leather jacket, brown booties, Lovely Bird hat, Love Sam dress, DL1961 black bell bottoms, Target black booties
Boys: Lovely Bird hat, Cult of Individuality white v-neck with eagle, Forever 21 cardigan, brown v-neck sweater, hoodie