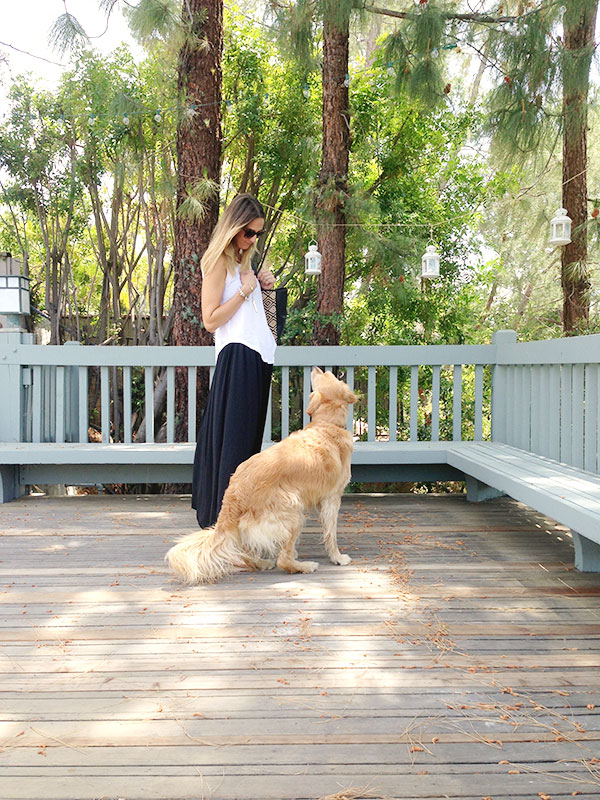 Me, my maxi and Jack. Even though we adopted a new little love last week (more to follow of course), he'll always be my number one.
Zara skirt and sunnies, Alternative Apparel tank, Dolce Vita sandals, JCrew tote
Maxi skirts (and dresses) are one of those items I grab for every season. For colder months they are great with cozy sweaters and moto boots, and during heat waves like the one we had last week they're cool and breezy with sandals and tanks. I feel like I'm wearing a nightgown when I'm in one and love that flowy girly feel when they blow in the breeze. This one is from Zara, and I loved it so much I bought it in two colors. I know some people scoff at that, but I'm picky-so when I find something I like, I stock up. They get so much use, that I feel very justified in doubling down. I also love this one and this one from Zara. Sadly those are about the only links I can put up right now because my internet is performing like a washed up lounge singer-slow and sad. Ugh, I LOVE/HATE technology. It allows for so much greatness but then my internet goes down and I feel completely useless. Think this must be the universe telling me to go outside and chill. Or god-forbid read a book. What internet provider do you guys use? Love? Hate?